'Factory life has crushed the childhood, youth, maturity of millions of men and women. It has ruined the health of those who would have been comparatively strong but for the unremitted toil and the evil atmosphere.'
Ethel Carnie was that very rare thing, a working-class writer, feminist, and socialist activist from Lancashire's textile towns. A mill girl from the age of 11, this extraordinary young woman somehow reinvented herself as a poet, journalist, children's writer and novelist. She was prolific, publishing at least ten novels. Long neglected and only now being given due attention, her work is of national and historic significance, as the very first working class woman in Britain to be published.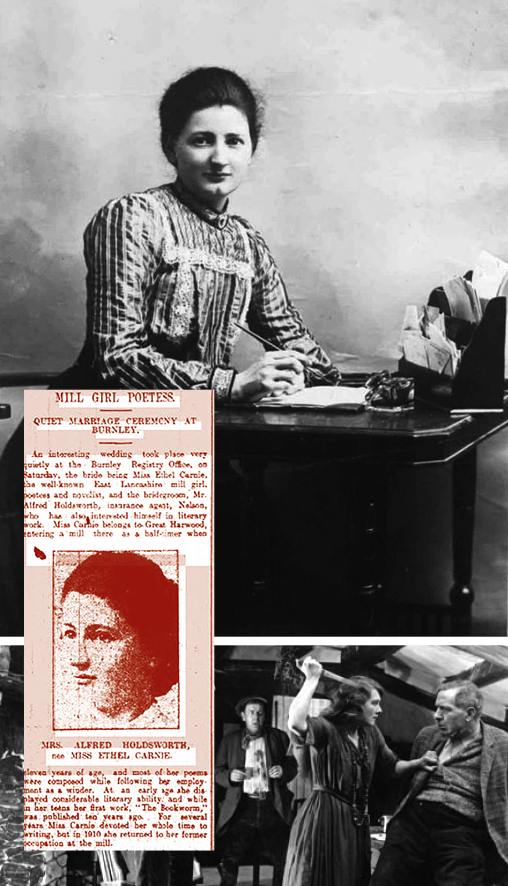 Read more
Ethel Carnie was born into a weaving family in Oswaldtwistle. She started working part-time work in the mill at age eleven and full-time at thirteen.
With her family moved to Great Harwood, the young Ethel became a voracious reader, and a regular at the Great Harwood Co-operative Society Reading Room. Even as a child, she started composing poetry.
Her first book of poems, Rhymes from the Factory, was published in 1907, when Ethel was just 21 years old. When this was republished in 1908 she achieved national recognition. Robert Blatchford, proprietor of The Clarion, offered Ethel her a job on The Woman Worker, in London. Carnie was dismissed after six months however. Perhaps her increasingly outspoken editorials may have caused Blatchford to rethink.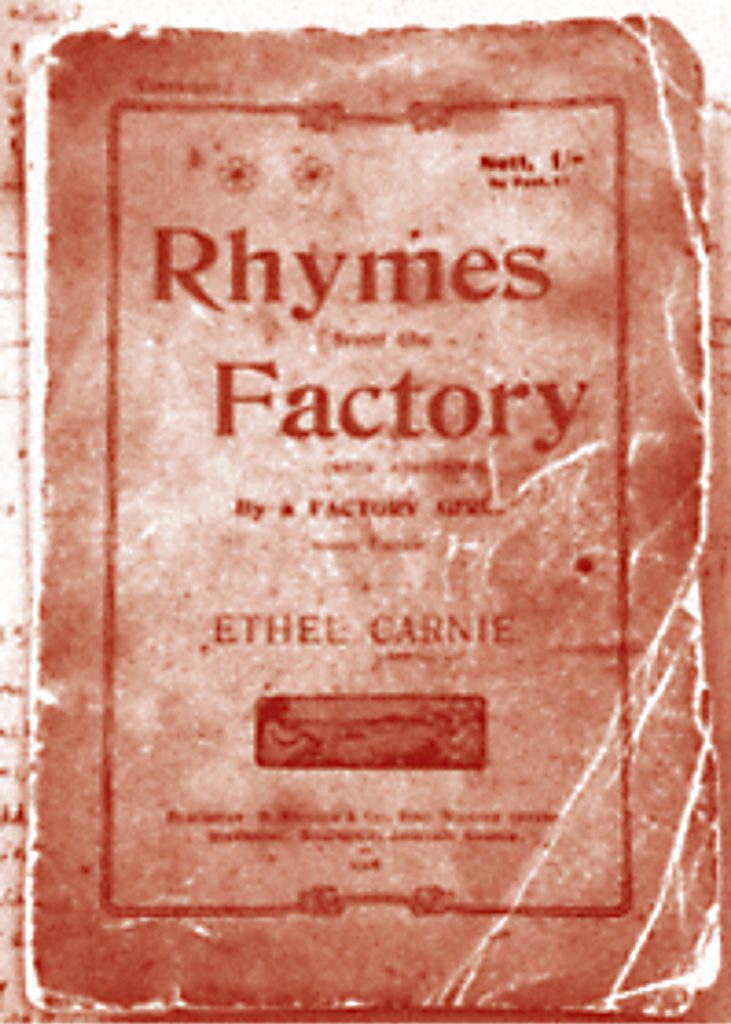 A second book of poems, Songs of a Factory Girl, was published in 1911, and Voices of Womanhood followed three years later. She tackles the slavery of the factory system and of domestic service, women exhausted by work as well as family and domestic responsibilities, the unfairness experienced by sweated labourers and the harm this does to their souls as well as their bodies.
Ethel Carnie was writing during a time of labour unrest and women's suffrage agitation. As a member of the Co-operative Society, and the Independent Labour Party Ethel Carnie was strongly anti- capitalist. She protested against the introduction of conscription in WWI, addressed 20,000 women during the Women's Peace Crusade and chaired local meetings of the British Citizen Party. During the 1920s she edited and produced The Clear Light, an anti-fascist journal, with her husband Alfred. Even in the early 1920s she recognised the threat of Mussolini.
For Pendle Radicals
Our Radicals researchers have been inspired by the extraordinary Ethel. After sharing and 'work in progress' events, they have recorded new, professional readings of selected poems. These recordings have established a presence for Ethel in the national Poetry Archive. Find it here: poetryarchive.org
In 2021, the team published an exciting new podcast series about Ethel, exploring the novel This Slavery.  We are also delighted to be co-hosting a collaborative doctorate with partners at Reading and Exeter Universities, to explore new areas of research about this extraordinary woman.
Explore further
Ethel's biography, Breaking the Bonds of Capitalism by Roger Smalley was published in 2014 by Lancaster University.
Four of Ethel's novels are back in print. This Slavery (1925) was republished by Trent Editions in 2011. Publishers Kennedy & Boyd have now revived three further titles, with new editions of Miss Nobody (1913; 2013), Helen of Four Gates (1917; 2016) and General Belinda (1924; 2019).