'Factory life has crushed the childhood, youth, maturity of millions of men and women. It has ruined the health of those who would have been comparatively strong but for the unremitted toil and the evil atmosphere.'
Ethel Carnie was that very rare thing, a working-class writer, feminist, and socialist activist from Lancashire's textile towns. A mill girl from the age of 11, this extraordinary young woman somehow reinvented herself as a poet, journalist, children's writer and novelist. She was prolific, publishing at least ten novels. Long neglected and only now being given due attention, her work is of national and historic significance, as the very first working class woman in Britain to be published.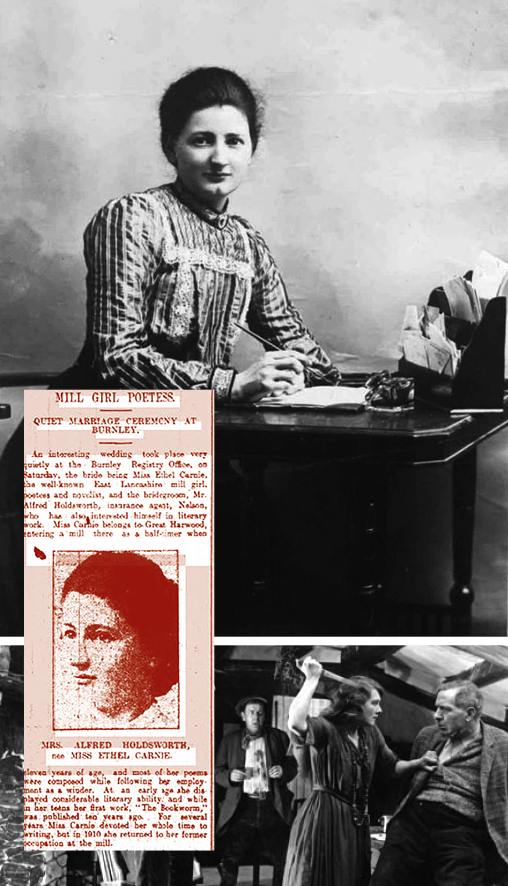 Read more
Ethel Carnie was born into a weaving family in Oswaldtwistle. She started working part-time in the local cotton mill at age eleven and full-time at thirteen.
When her family moved to Great Harwood, the young Ethel became a voracious reader, and a regular at the Great Harwood Co-operative Society Reading Room. Even as a child, she started composing poetry.
Her first book of poems, Rhymes from the Factory, was published in 1907, when Ethel was just 21 years old. When this was republished in 1908 she achieved national recognition. Robert Blatchford, proprietor of The Clarion, offered Ethel her a job on The Woman Worker, in London. Carnie was dismissed after six months perhaps because her increasingly outspoken editorials may have caused Blatchford to rethink.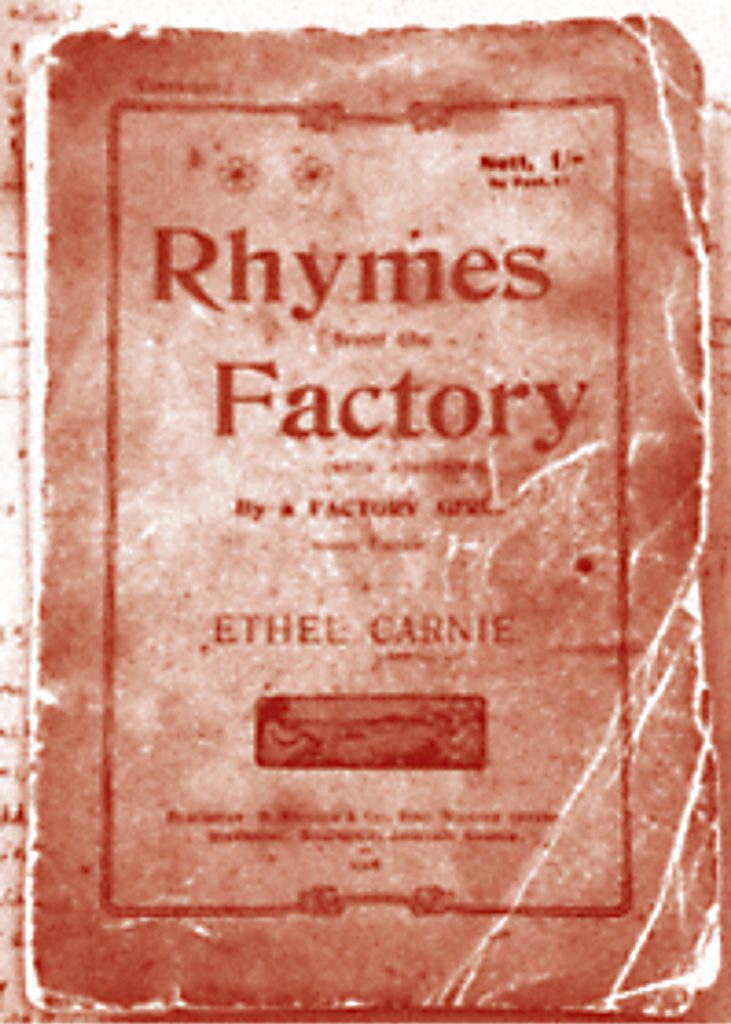 A second book of poems, Songs of a Factory Girl, was published in 1911, and Voices of Womanhood followed three years later. In both her poems and her subsequent novels Ethel tackled subjects such as the slavery of the factory system and of domestic service; women exhausted by work as well as family and domestic responsibilities, the unfairness experienced by sweated labourers and the harm this does to their souls as well as their bodies.
Ethel Carnie was writing during a time of labour unrest, war and women's suffrage agitation. As a member of the Co-operative Society, and the Independent Labour Party Ethel Carnie was strongly anti- capitalist. She protested against the introduction of conscription in WWI, addressed 20,000 women during the Women's Peace Crusade and chaired local meetings of the British Citizen Party. During the 1920s she edited and produced The Clear Light, an anti-fascist journal. Even in the early 1920s she recognised the threat of Mussolini.
For Pendle Radicals
Our Radicals researchers have been inspired by the extraordinary Ethel. Very early in the Pendle Radicals project, they recorded new, professional readings of some of her poems that they selected from all three of her books. These recordings established a presence for Ethel and for working class poetry in the Poetry Archive.
Following on from this success the team were inspired to create two series of further recordings, or podcasts, about Ethel and her novels. The first explored Ethel's most successful and radical novel, This Slavery. The second explored Ethel's very first and highly individual attempt at novel writing: Miss Nobody. This series is called Grit, Grace & Gumption, and will be published in early 2023.
In 2021 the team of volunteer researchers realised that there was something very significant missing from the local area – a blue plaque marking a location where Ethel lived, worked or campaigned. This had to be rectified and so the team worked in collaboration with Rosie's Plaques – the guerrilla art project aiming to track down the very many women missing from the blue plaques of the UK.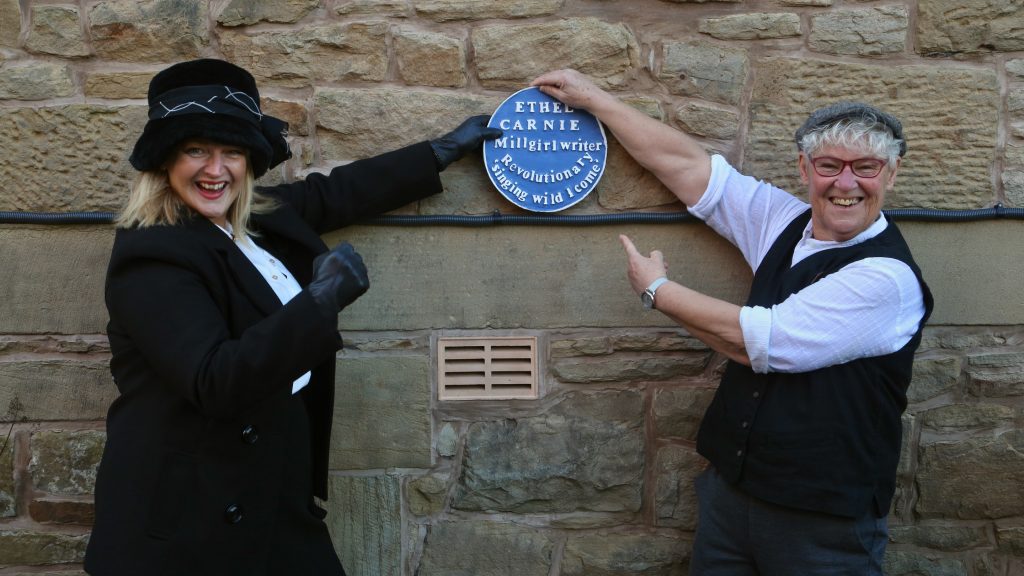 While a permanent location for a blue plaque has not yet been agreed for Ethel, the team had lots of fun on International Women's Day 2022, taking the blue plaque on tour. The team of volunteers travelled with members of Ethel's family in a 1930s charabanc, visiting many of the locations linked to Ethel's story. These included her first school and The Co-operative Reading Rooms in Great Harwood, and Victoria Park (formerly Victoria Recreation Ground) in Nelson where Ethel addressed a crowd of 20,000 people at a rally calling for an end to war as part of the Women's Peace Crusade.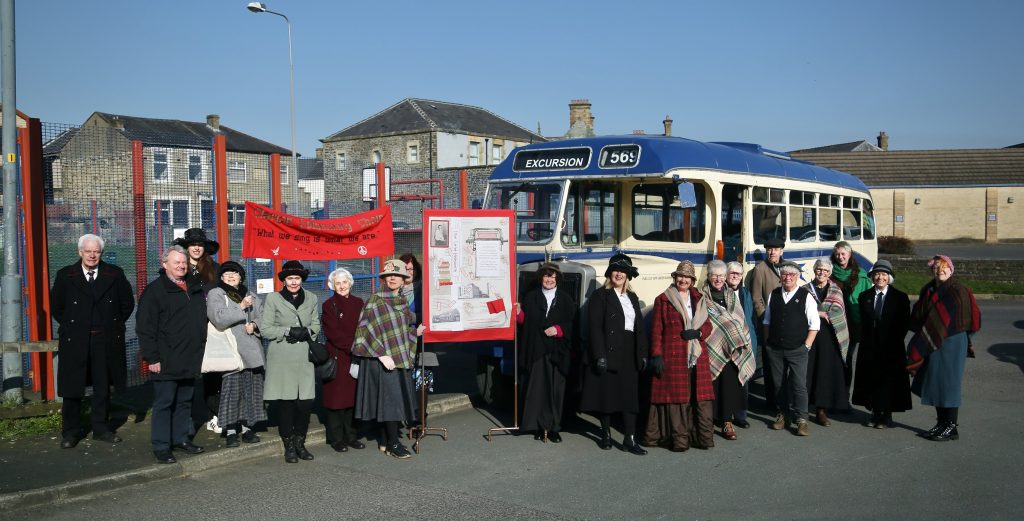 Another recent development for the team includes co-hosting a collaborative doctorate with partners at Reading and Exeter Universities, to explore new areas of research about this extraordinary woman. An early blog written by our PhD researcher Jenny Harper, into some of the fruits of her research can be found here and was part of the Piston, Pen and Press conference which was attended by many of our volunteers in the summer of 2022.
Explore further
Ethel's biography, Breaking the Bonds of Capitalism by Roger Smalley was published in 2014 by Lancaster University.
Five of Ethel's novels are back in print and all of her poetry. This Slavery (1925) was republished by Trent Editions in 2011. Publishers Kennedy & Boyd have now revived five further titles, with new editions of Miss Nobody (1913; 2013), Helen of Four Gates (1917; 2016), General Belinda (1924; 2019), The House That Jill Built (1924; 2022) and Collected Poems (2020).