Bomb Culture is an abscess that lances itself. An extreme book, unreasonable but not irrational. Abrasive, contemptuous, attitudinizing, ignorant and yet brilliant.'

Dennis Potter
A seminal figure in 1960's counter culture, the author of Bomb Culture was also a prolific painter, sculptor and poet. And not just that, but also a film actor, jazz musician, pioneering creator of fanzines, bandes dessinees and graphic novels, a founder member of the hugely influential performance company The People Show, and for two decades an inspiring art school teacher. By his death in 2004, Jeff Nuttall had compiled the most extraordinary, polyglot body of work.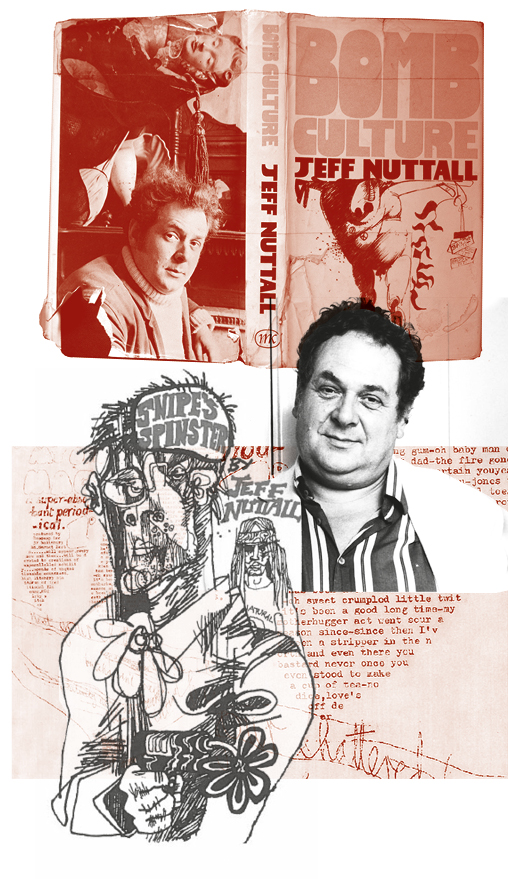 Read more
Nuttall was born in Clitheroe, and in later life found his way back to the shadow of Pendle Hill. In the 1990s, his jazz band could be found doing a weekly pub gig in Earby. His work touched the lives of many people in our area, but he has perhaps only posthumously received the respect due to the extraordinary creative life of a true renaissance man.
For Pendle Radicals
In 2019 John Rylands researcher Bruce Wilkinson and Bomb Culture editor Doug Field gave an illustrated lecture on Nuttall for Burnley Literary Festival. Bruce is now researching a new book on Nuttall, and we aim to programme further events in future.
Explore further
MPA presented a posthumous retrospective in 2005 at our Burnley Gallery, curated by the late Robert Bank. Robert's labour of love is documented in this website, which can still be accessed: www.jeff-nuttall.co.uk
Many of Nuttall's publications can be found online, as well as Jeff Nuttall – A Celebration, published by Arc of Todmorden.