'If I had not come, I could not have been the person I am today. I am a better citizen for the time I have spent in Nelson.'
Learie Constantine came to England for the 1928 West Indies cricket tour of England. He signed a 3 year professional contract with Nelson of the Lancashire League, and eventually stayed much longer, living in Nelson until 1949. Facing down a hostile and alien environment, this extraordinary cricketer won over the locals, being adopted locally as 'Our Connie'. He went on to another stellar career in public service, becoming Britain's first black peer, Baron Constantine of Maraval and Nelson, in 1969.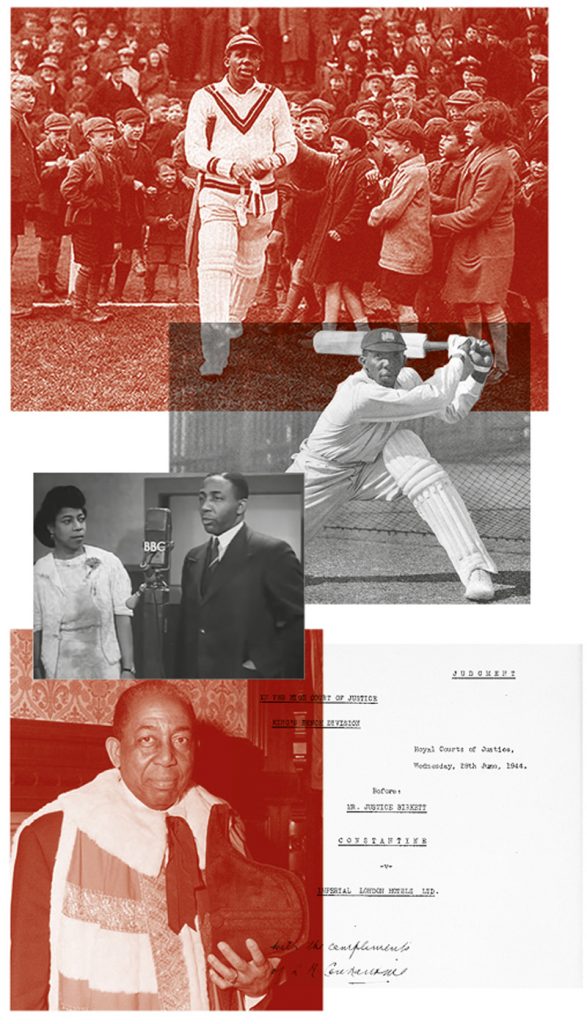 Read more
Learie Constantine was born in Trinidad. His father Lebrun Constantine was the son of a slave, and a keen cricketer himself. But Learie was something else, a devastating all-rounder.
On settling in Nelson, Connie eventually proved popular with local people, who called him 'Our Connie'. The prefix used in front of a name in this area is usually given to a family member.
He invited the writer and activist CLR James to lodge with him, on hearing that James had run out of money in London. Nelson also had a great effect on James, who helped Connie write his first book, Cricket and I.
In 1943 he was given four days' leave from his job with the Ministry of Labour, to captain the West Indies team against England at Lord's. Prior to his arrival he was told by the Imperial Hotel there was no objection to his colour, so he paid a deposit, but when he arrived at the hotel it was made clear that he and his family were not welcome. Constantine brought a successful action against the Imperial for breach of contract.
One of his books (The Colour Bar, 1954) addressed the pervasive and constant racial discrimination suffered by black people.
'Almost the entire population in Britain really expect the coloured man to live in an inferior area, devoted to coloured people…Most British people would be quite unwilling for a black man to enter their homes, nor would they wish to work with one as a colleague, nor stand shoulder to shoulder with one at a factory bench.'
Constantine nevertheless became a popular broadcaster, and was awarded the MBE in 1945. He was called to the Trinidad bar in 1955, and served as Trinidad and Tobago's High Commissioner from 1961 to 1964. He was knighted in 1962 and made a life peer in 1969. He died in London in 1971.
For Pendle Radicals
Our researchers have been inspired by the pioneering achievements of Our Connie. They are developing a radical walk around Nelson, linking Unity Hall (formerly the Nelson Independent Labour Party Institute) and the house occupied by Connie and CLR James, with the homes of Selina Cooper and Ethel Carnie Holdsworth.
Radicals contributor Bob Sproule has made this lovely short film with filmmaker Riaz Meer
Explore further
Books by Connie include Cricket In The Sun, The Young Cricketer's Companion, Colour Bar and Cricketer's Carnival. There are a number of biographies and articles on the web.