'Imaginary beasts pass ocean liners, an ancient rock splits to become a boat for a puppet crew, sea creatures mingle with rabbits and birds, coloured silks unfurl into waves, a choir sings, aerialists spin overhead…'

Francois Matarasso
In the 1970s, John Fox and Sue Gill were the creative force at the heart of a Pennine Lancashire artist residency like no other. Welfare State International set up camp in 1972 at the Heasandford former council tip, now home to Burnley Youth Theatre. Invited to Burnley by MPA, they stayed for six years and developed a unique body of work that has since been hugely influential around the world.
Read more
The WSI family tree is a huge, elaborate construct of connections and influences that continue to spread, forty years on.
More locally, around our towns and Pendleside villages, there will be many individuals who still recall an experience of a strange, other worldly troupe appearing from nowhere and demanding their participation in some weird and wonderful, improvised street show. New Year processions through Barrowford, Parliament in Flames at Fulledge Rec, The Life and Adventures of Lancelot Quail, and countless more.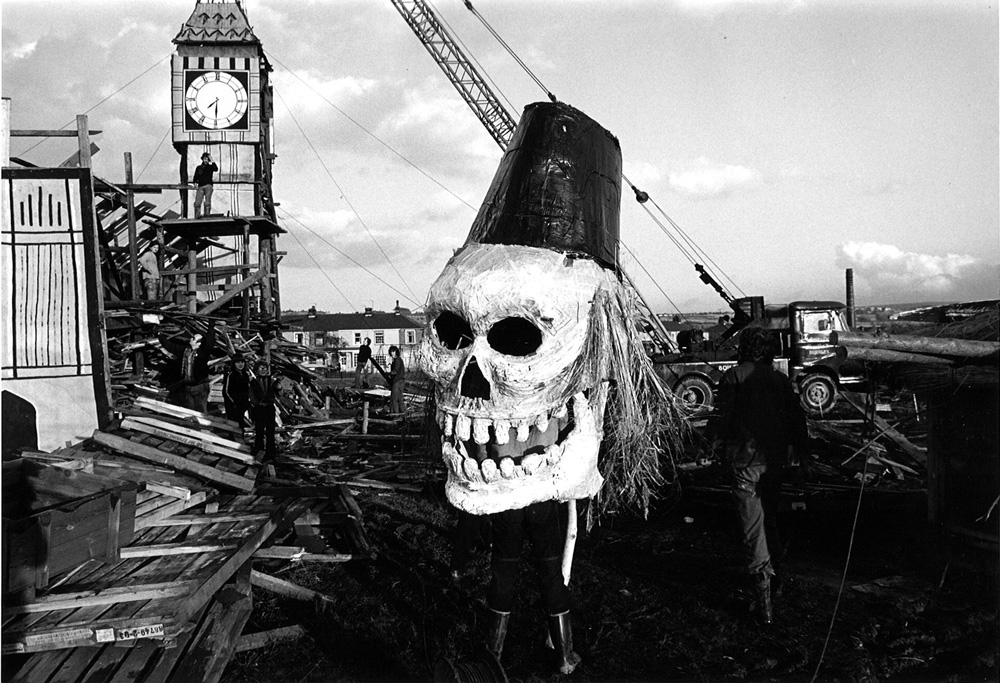 'Their work encompassed street theatre, intimate ceremonial, huge public spectacles and everyday community art. But if each piece was different, it was always, unmistakably, the expression of a singular artistic vision and aesthetic. Its roots were deep in the tradition of English art. Blake's prophetic vision, Hogarth's political dyspepsia, Dickens' exuberant fecundity and Spencer's sacred everyday are evident, but so is music hall, commercial art and folk practice. This art was highly original, but its originality was partly in its reinvention of existing, often neglected ideas, forms, practices and traditions.'
Francois Matarasso, A Restless Art
'Ragged around the edges, chaotic, unfinished and untamed, all the wobbly bits are in plain view. But it is so full of invention and puppetry, it makes The Lion King look cheap and dowdy.'
Lyn Gardner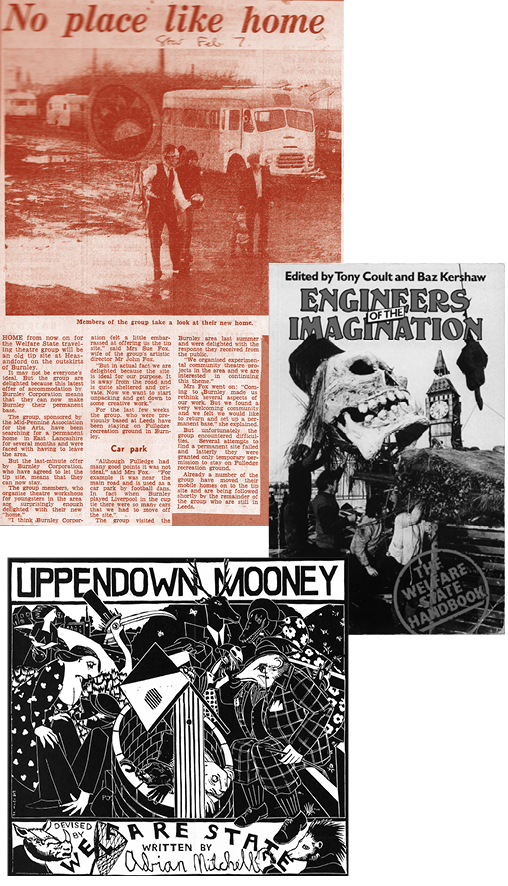 For Pendle Radicals
We hope to host a reunion event for some of the WSI family, celebrating some of the extraordinary music created for their shows. This event will be convened by former WSI Music Director, Pete Moser.
We are inviting John and Sue to give an illustrated talk about their time in the Pendle Hill area, and if the spirit takes them, to create something new for Pendle Radicals.
Explore Further
Eyes on Stalks (2002) is John Fox's story of Welfare State. Engineers of the Imagination by Baz Kershaw and Tony Coulter is a handbook of the WSI approach.
Photographer Daniel Meadows includes on his website a wonderful short film, featuring his photographs of Welfare State between from 1976 on, and the voices of John Fox and Sue Gill.